The Athletic Director
Bates Director of Athletics Kevin McHugh is passionate about the Bobcats and Tweets about them at the drop of a hat.
The AD's note to campus for Fall 2015
There are many ways to engage with Kevin on all things Bates Athletics — here are three:
Kevin discusses the challenges and rewards of participating on one of Bates' 31 varsity teams.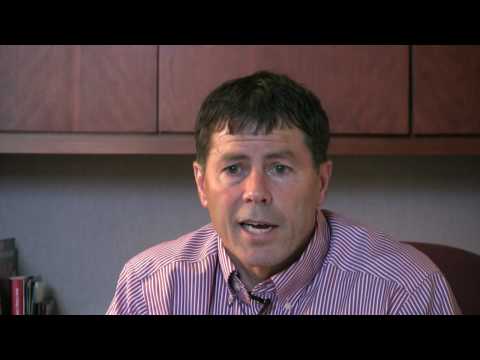 ---
About Kevin McHugh
Appointed Director of Athletics at Bates College in 2007, Kevin McHugh draws upon over 35 years of administrative experience at four institutions. From 1979 to 1983, he served as an operations and facilities manager at Yale University, and then served as an assistant athletic director at Bowling Green State University. He then moved on to become Director of Athletics at The College of New Jersey in Ewing, N.J., from 1987 until 2007, when he accepted his new post at Bates. In addition to directing The College of New Jersey's athletic programs and student organizations, McHugh oversaw a large summer-camp offering and the management of the college's athletic facilities complex, which has hosted numerous NCAA national championships.
In his first two years at Bates, McHugh saw a pleasing number of outstanding achievements by Bobcat student-athletes and their teams. During his brief tenure, Bates has also hosted two NCAA Championship events, both with great success. Bates hosted the NCAA Division III Men's Tennis Championships in May 2008, then 10 months later was the host site for the 2009 NCAA Collegiate Skiing Championships, at the Bobcats' home venues for Alpine skiing (Sunday River, Bethel) and Nordic skiing (Black Mountain, Rumford).
A native of Wharton, N.J., McHugh earned his bachelor of arts degree in Latin American studies from Columbia University in 1978. A four-year varsity wrestler at Columbia, he was a two-time captain who twice earned All-Ivy honors at 134 pounds. He won 75 career matches, was named Columbia's Most Outstanding Wrestler his last two years and earned All-America honors from National Mat News.
McHugh earned his master of science degree in sport management from the University of Massachusetts, where he served as an assistant wrestling coach and junior varsity football coach. A former chair of the NCAA Division I Wrestling Committee, McHugh was inducted into the National Wrestling Coaches Association Division III Wrestling Hall of Fame as a contributor to the sport.
Active in NCAA governance, McHugh was elected vice chair of the NCAA Division III Management Council in 2006, before resigning his council membership to focus on his new responsibilities at Bates. He has also served as a member of the NCAA Division III men's basketball committee. A member of the National Association of Collegiate Directors of Athletics executive committee, McHugh was named one of 25 regional NACDA Athletic Directors of the Year in 2004-05.
McHugh enjoys distance running and has completed 13 marathons, including the Boston, New York City and U.S. Marine Corps marathons.
---